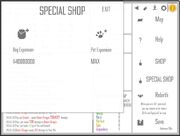 The special shop is a shop that is accessible from the help menu, directly below regular shop. This shop allows you to upgrade the storage for your backpack. You may also upgrade your
loot
 and 
pet
space. The upgrades will increase your available inventory by 1 for every upgrade. The upgrades initially cost 1 million for the
loot
and 5 million gold for the
pets
to upgrade. The cost of upgrading increases each time. The maximum amount of spaces for
pets
is 20, and for
loot
is 100. Although, if you have very fast reflexes and a lot of spare money, you might be able to get in an extra click before the game realise you're above the cap, allowing for 21 pets and 101 equipment storage space.
Ad blocker interference detected!
Wikia is a free-to-use site that makes money from advertising. We have a modified experience for viewers using ad blockers

Wikia is not accessible if you've made further modifications. Remove the custom ad blocker rule(s) and the page will load as expected.